1. Quick Launch Wizard to Set Up
We're not going to lie, if you're new to SEO, working your way in can be challenging. Just learning the jargon associated with SEO can take time.
All in One SEO makes it so simple to set up in under 10 minutes. When you install the All in One SEO plugin on your site, it allows you to launch the setup wizard.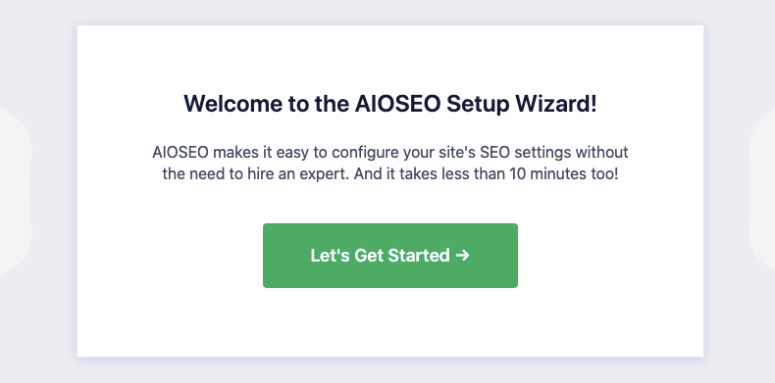 This wizard will ask for your site's details, such as:
A category that best describes your site
Your site's home page title and meta description
Your business name, contact, logo, and social profiles
After this, you can select what SEO features you would like to enable on your site.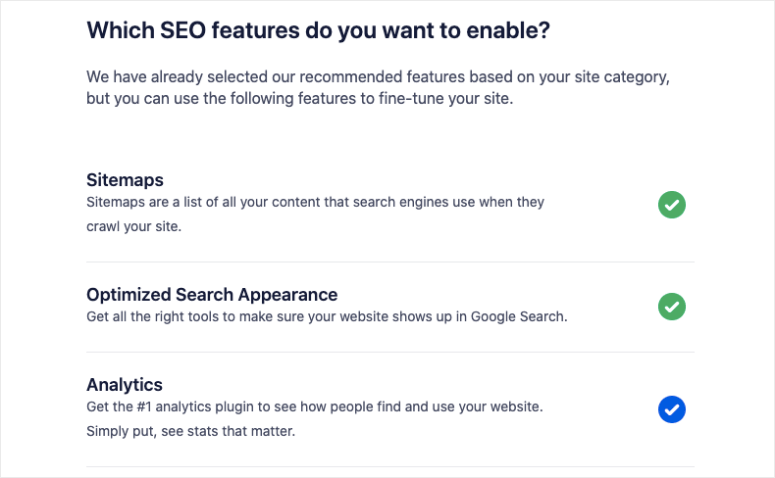 In addition, you can also choose to get data analytics for your site and smart recommendations to improve your SEO.
2. Easy SEO Management From WordPress Dashboard
Once you've connected your site to All in One SEO, you can manage it easily from your WordPress dashboard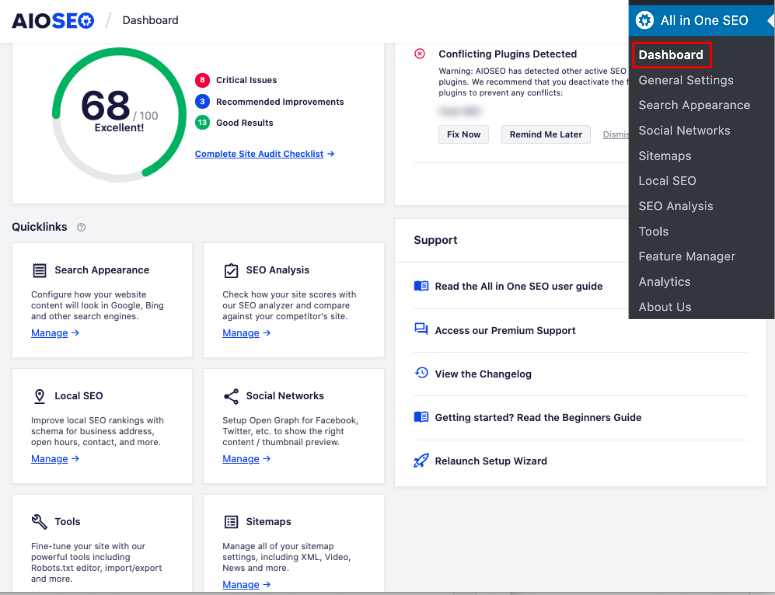 You can check your site's SEO score and be alerted about any critical errors found. All in One SEO also lets you fix issues on your site with just a click of a button.
It's also easy to set up more advanced WordPress SEO features like sitemaps, optimized search appearance, SEO keywords, social media integration, SEO search console, local SEO, schema markup, and more.
2. Optimize Every New Page or Post Before Publishing
With All in One SEO, you can also optimize every page and post you publish.
When you create a new page or post, in the editor, you will see the All in One SEO score appear in the top-right hand corner. This shows you how SEO-friendly your content is.
By clicking on it, it will open the SEO settings where the plugin will tell you what areas you need to improve in order to rank.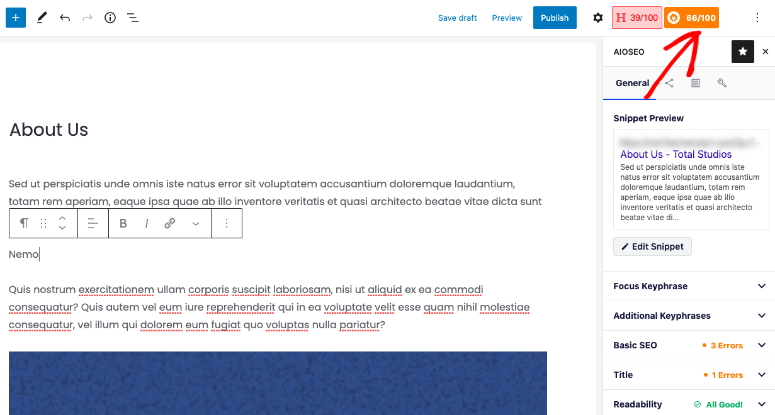 You can add a meta description, focus keyword, and key phrases, and analyze your title as well. Plus, you can make sure your content is easy to read for your visitors.
4. Get Technical Help Easily
One of the great things about All in One SEO is that it's so easy to get help from the support team if you get stuck. The support team is available through a support ticket system and is really helpful in resolving any issues quickly.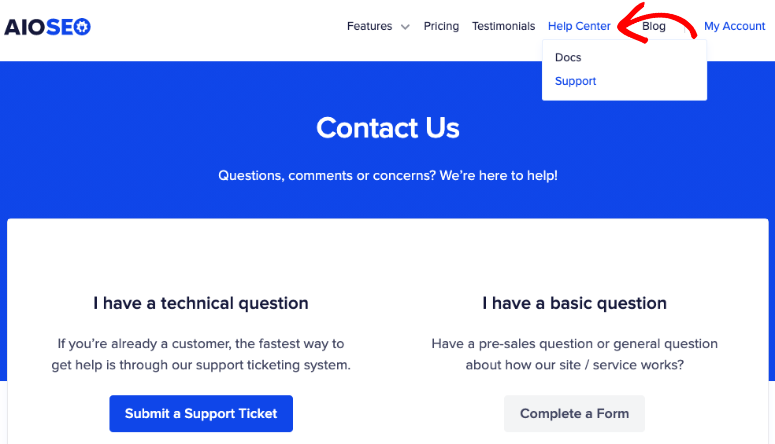 Plus, if there are things you don't understand, the plugin has extensive documentation to guide you. You can access the full documentation from your WordPress dashboard or on the All in One SEO website.
Leverage Powerful SEO Features
As the name suggests, All in One SEO strives to be an all-inclusive SEO package. This means it is packed with powerful features and lots of options to improve your site's SEO.
1. Start with the Basics
If you're new to SEO, this plugin is beginner-friendly and gives you everything you need to get started.
Search Appearance – Configure how your website's content will look when it appears in search results on Google, Bing, Baidu, and other search engines.
SEO Audit – TruSEO score shows you how your site performs in search engines taking into consideration a list of SEO ranking factors.
Competitor Analysis – Use the Competitor Site SEO Analysis to improve your site's SEO and outrank competitors.
User Access Control – Set permissions and roles that determines who can manage your SEO settings.
2. On-Page SEO Features
Get easy access to on-page SEO features to help you optimize your pages for higher SEO rankings.
Smart Meta Title and Description – Generate an SEO-friendly title and meta description with dynamic smart tags.
Unlimited SEO Keywords – Use the SEO content analyzer to optimize your pages with unlimited keywords.
Knowledge Panel SEO – Improve your SEO by adding social media profile links for Twitter, Instagram, Facebook, Wikpedia, LinkedIn, YouTube, Yelp, and more.
Schema Markups – Set rich snippet schemas to categorize your content to get better click through rate (CTR) and increase SEO rankings.
3. Advanced Technical SEO
Take care of the technical aspects of SEO in just a few clicks.
Enable Sitemaps – Sitemaps help search engines find your website's content easily. Create sitemaps in a few minutes with All in One SEO.

XML Sitemap
Video SEO Sitemap
News SEO Sitemap
RSS SEO Sitemap

Automatic Image SEO – Get your images to rank higher on search results.
Local Business SEO – Gain more visibility in local areas where you run your business.
Google AMP SEO – Improve your mobile SEO rankings.
Advanced SEO Canonical URLs – Prevent duplicate content in SEO with automatic canonical URLs and boost your SEO rankings.
Advanced Robots Meta SEO Settings – Get more control over no index, no follow, no archive, no snippet, max snippet, max video, and more.
RSS Content for SEO – Don't let people who steal our content hurt your SEO rankings.
Sitelinks Search Box – Get a search box in Google SEO rankings.
Google Site Links – Get sitelinks for your brand.
Robots.txt Editor – Control what SEO robots can see on your site by hiding the pages you don't want to show up in search results.
5. Data and Analytics
Easily connect your WordPress site with Google Search Console and other popular webmaster tools. Plus, you can integrate it with MonsterInsights to get advanced yet simple SEO insights.
6. Integrate All in One SEO with More Tools
Connect All in One SEO with other tools to improve rankings of your online store, social media, landing pages, published content, and more. All in One SEO supports:
WooCommerce
Facebook
Twitter
Pinterest
Open Graph
7. Import, Export, and Backup
Import settings from Yoast or RankMath, export your SEO settings to another site, and easily create a backup of your SEO settings.
All in One SEO is so feature-rich, you really only need one plugin.
How Does All in One SEO Do When Compared to Other SEO Plugins?
There are plenty of SEO plugins available in the WordPress repository, however, very few can match up to what All in One SEO has to offer.
After comparing the most popular SEO plugins, here's what we liked about All in One SEO.
1. Beginner-friendly
All in SEO really stands apart from the competition for how easy it is to use. Everything you need to know is neatly categorized into different tabs with explanations so you know what you're doing at every step.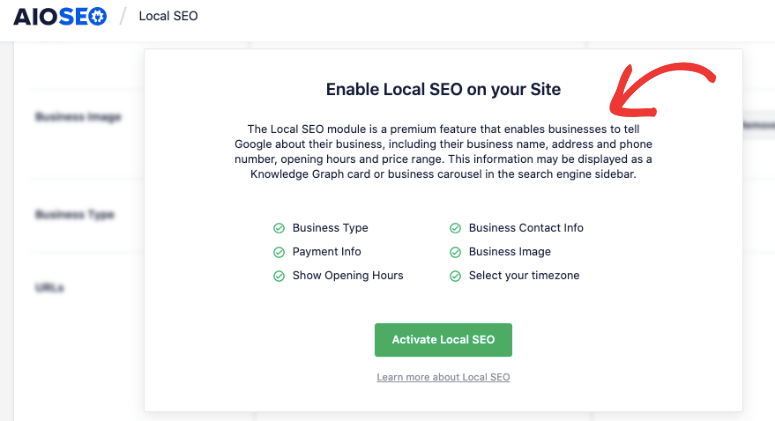 It's easy to just point and click in order to optimize your site.
2. Quick Setup and Easy Management
With All in One SEO, you can optimize your site in under 10 minutes. However, SEO isn't a set-and-forget step. You need to constantly monitor it and work on improving your site's ranking.
All in One SEO makes it really simple to manage your SEO. It alerts you about any errors on your site and shows you how to fix them quickly.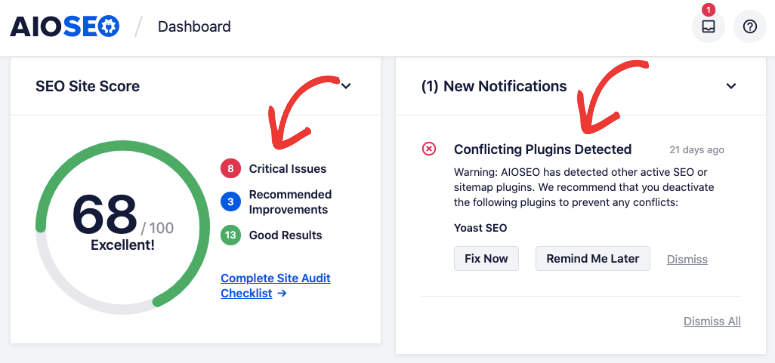 It also gives you tips on how to improve your SEO for every post and page.
3. All SEO Features You Need in One Product
SEO is a vast subject and it's not easy to learn in a day. There are SEO experts who have been in the field for years and they will tell you that they're still learning.
What All in One SEO has done is take everything you possibly need for SEO and packed it into one easy-to-use plugin.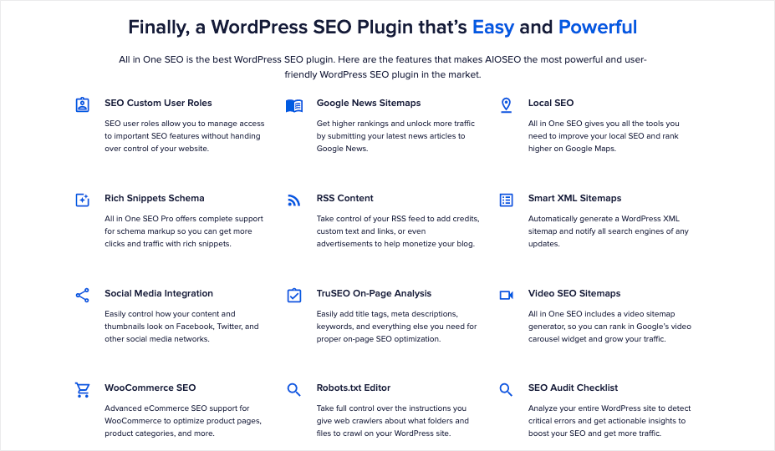 The plugin is also maintained and updated regularly based on the latest SEO best practices so it keeps your site's SEO up to date for you.
You can choose what features you want to enable or disable. Everything can be done at the click of a button without ever needing to modify any files or enter any code.
4. Suits Websites of All Sizes and Budgets
All in One SEO works whether you're an individual blogger or a large corporation. The plugin takes care of the most basic SEO features to advanced requirements.
There's a lite version of the plugin that's free and available in the WordPress repository. This is great for beginners and those who want to test the plugin before they invest in it.
It also has a premium version available in four packages to suit websites of different sizes and needs.
5. Exceeds Expectations
All in One SEO's features are highly optimized not just for Google, but for other search engines like Bing, Baidu, and Yandex.
It follows the most up to date SEO standards and SEO best practices so you can trust that your SEO is done the right way.
With All in One SEO, you can uncover new growth opportunities, unlock higher SEO rankings, and maximize traffic.
What's more, is that you can optimize based on your unique industry needs to outrank your competition and perform well in your domain.
Lastly, the plugin is built with speed and performance in mind so it will never slow down your website. It ensures things run smoothly and fast.