Hestia Pro Hooks
Hestia Pro Hooks is a feature that lets you insert things like HTML, javascript, PHP code, shortcodes, or regular text in different parts of the theme.
By doing so, you can customize the theme even further, beyond anything that Hestia already offers.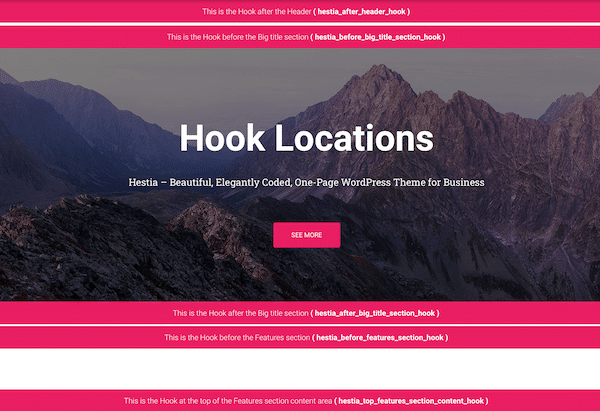 Of course, this requires some technical knowledge, so you either need to know what you are doing, or you must hire someone else to help you out. But, the hooks allow you to add extra content, and they do not only show on your front page, but also on other pages, too.
Customization
Obviously, allowing you to customize your website is Hestia's whole thing, and it is very good at what it does.
But, let's scale down for a few minutes and talk about different customization options that you can reach through WordPress customizer. In other words, let's talk about details, such as the color of the font, typography, and alike.
All of this can easily be reached by going to Appearance, and then Customize. Once you get there, here are some of the options you will find.
1) Appearance Settings
Before anything else, we have Appearance settings themselves. Here, you can customize most of the details such as sidebars, colors, typography, and similar aspects of each page. You can also toggle entire front page sections here, add a scroll-to-top button, and other useful tools that can improve website navigation and use.
Then, there are typography settings, where you can decide on the font family and size. After that, there are color settings, that will allow you to customize different elements, such as background, body text, accent color, and more.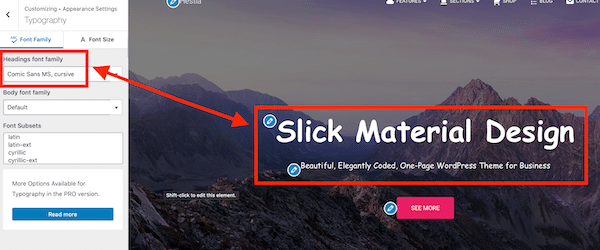 Finally, you will find background image settings and button settings. These are pretty self-explanatory and straightforward when it comes to using them. Just remember that all buttons will be affected in the same way depending on what you decide here, as far as settings are concerned.
2) Header & Footer Options
Next, there are header options, where you can customize controls for the header itself, navigation, and the top bar.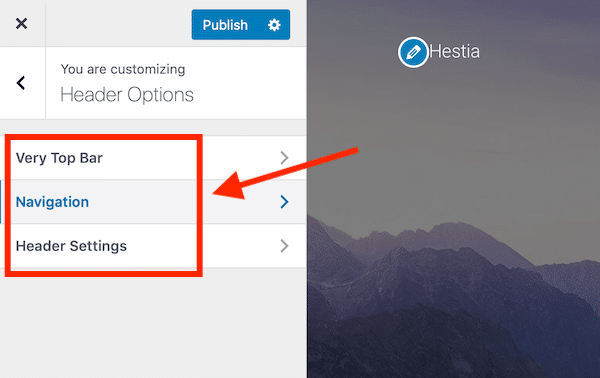 Let's start with the very top bar, which features options for adding things like widgets, a menu, and similar details. It has two layout options, as well as a panel that allows you to change colors to your liking.
Then, there are navigation settings, which offer layout and different settings for the menu. Basically, you can use these options to change the appearance of the site's navigation, with three different layouts to choose from. However, only one lets you add widgets, if that is something that you might be interested in.
Lastly, there are header settings where you can customize the header layout. There are also separate layout options for product pages, posts, and other pages.
You can also opt to add an image to your header, and even choose whether the image will be on the entire site or only on a single page. Naturally, that will replace all other headers if you make it site-wide.
As for footer options, this section features rather modest customization options, and it only lets you configure the number of widgets, layout, color, and footer credits.
3) Blog Settings
Blog settings come in three different sections, including Authors Section, Blog Section, and Subscribe Section. The Authors Section lets you choose who will be displayed at the blog archive pages' bottom. You can even set a background image here, if you wish.
The Blog Section allows you to configure the layout of the blog archive page, but also which posts are to be featured, and alike.
Finally, there is the Subscribe Section, where you can use your account at SendInBlue and display different campaigns of your choosing.
4) Shop Settings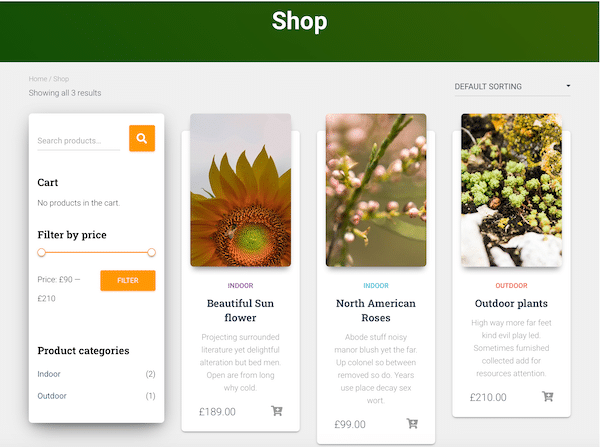 This one is pretty self-explanatory as well, and it lets you customize options for your shop pages. As mentioned earlier, you need WooCommerce in order to use it, but if you add it, you will find numerous options that will let you customize the product style, choose between having pages with a limited number of listed products or add infinite scroll pagination, and alike.
5) White Label
The White Label option lets you hide the fact that you use Hestia, as well as any reference to Themeisle. This is useful if you wish to add the name of your own company instead.